The Ecomuseum of Marquèze: history and aims
An ecomuseum like no other in France !
The Écomusée de Marquèze was created in 1969 by the Landes de Gascogne Regional Natural Park. It was one of the first ecomuseums to open in France. Its aim is to conserve, study and transmit the heritage of the Grande Lande by recreating the life of its inhabitants in the 19th century.
150 years ago, this community of herders and farmers lived in such close symbiosis with its environment that it disappeared when the moorlands gave way to forestland. Marquèze tells the story of this unique link between a community and its environment, with its economic, cultural and social consequences, in one of the largest outdoor museums in France.
A recreated and safeguarded heritage site
To recreate this whole way of life, Marquèze was the first ecomuseum in France to use the technique of transferring buildings. Two-thirds of the buildings were transferred from the surrounding areas, and the landscape of fields, pine forests and mills was rebuilt to recreate a typical neighbourhood of the 19th century.
The indigenous race of sheep, the farming of ancient cereal crops, the gardens and the furniture in the houses complete this replica of a society at the dawn of its transformation.
The Ecomuseum's train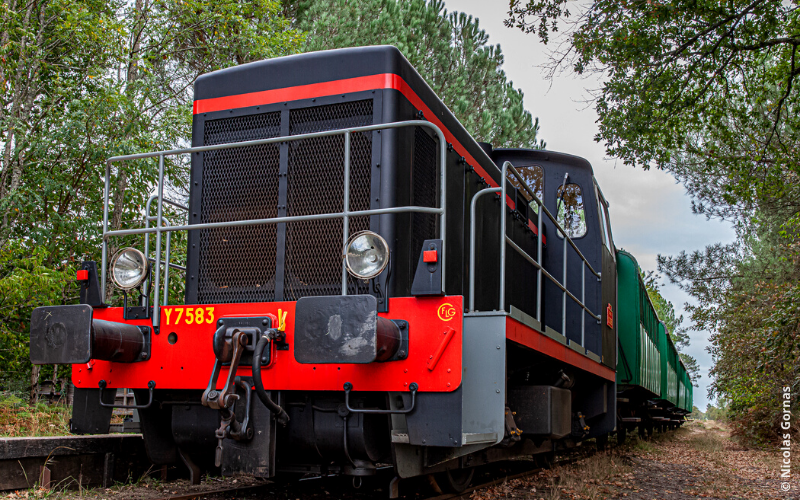 Marquèze lies 4km from the village of Sabres, and formed a remote district like others in the Grande Lande. From 1889 to 1960, the Sabres-Labouheyre railway line transported passengers and goods and helped to open up the district. The Resin Collectors' Train is the only way to reach the district of Marquèze today, and its carriages dating from 1903 to 1910 are listed Historic Monuments. (Train timetable)